Massages & Body Treatments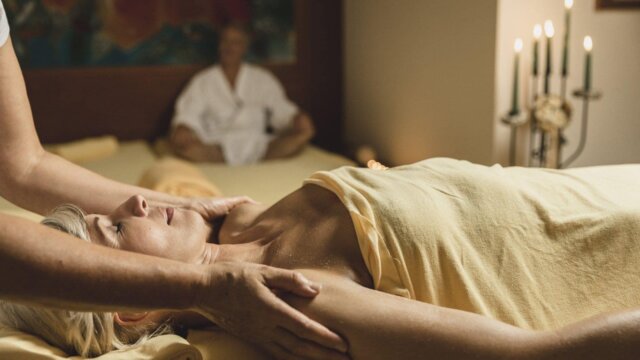 Body treatments
Relaxing exfoliating massage for soft and smooth skin. The fruit enzymes of fresh papaya and a special sea sand complex remove dead skin, coconut oil nourishes the skin while pampering it with valuable nutrients. approx. 45 minutes € 58,00
Relaxing, pampering massage with different products. Supports the drainage of the lymphatic system, improves the elasticity of the connective tissue, has a smoothing and firming effect on the skin. approx. 50 minutes € 78,00
Intensive body care with valuable minerals and vitamins to improve the skin. The tissue is activated and purified, the skin visibly refined and tightened. approx. 50 minutes € 55,00
Moisturizing body pack that improves the appearance and elasticity of the skin by high lipid intake. After a pampering and a wonderfully fragrant massage, the skin is soft and smooth. approx. 50 minutes € 55,00
Get to know our product:
1 problem zone exfoliation
1 !QMS body wrapping with body shape
1 treatment approx:  50 minutes € 59,00
We recommend a full body peeling before a bath so that the skin can better absorb the nurturing ingredients. approx. 20 minutes € 38,00
NANO nebulization in the SanaSpa cabin
SanaSpa salt water from the Dead Sea and high-quality olive oil are nebulized in nanoparticles. Vitamins, minerals and trace elements are released. The body is covered by nano-mist, the active ingredients are supplied directly to the body through the skin and respiratory system. With soft music and pleasant colours you can relax. The cabin can also be used by two.
Effect:
Anti Aging effect
Improves skin structure
Tightening effect on skin and tissue
Improves appearance of skin
Supports the metabolism
1 treatment € 18,00 or 2 treatments as 1 inclusive treatment in packages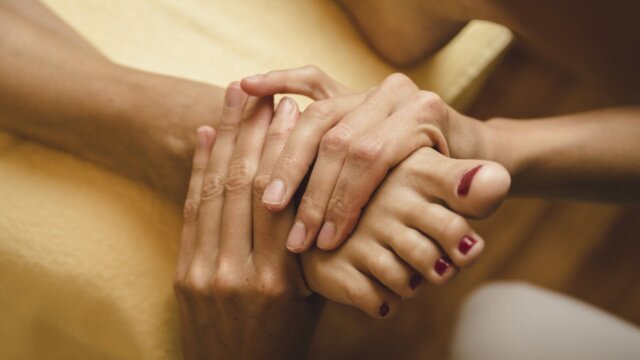 Massages
Relax, in your clothes, on our waterbed, and a warm water-jet kneads back and legs or just your back. 20 Minutes € 12,- or 2 massages as 1 "Beauty- & Verwöhnauswahl" bookable
Intense kneading and stroking alleviates mucle tension and is wonderfully relaxing. approx. 50 minutes € 59,00
small tensions in the back or legs loosen approx. 25 minutes € 38,00
Gentle pumping and stretching helps to move the lymph forward and drains the connective tissue. approx. 50 minutes € 69,00
Gentle pumping and stretching helps to move the lymph forward and drains the connective tissue. 25 minutes € 42,00
This massage technique was already known in India and China 5000 years ago. Pressure points correspond to different body organs and massaging them has a beneficial effect on your wellbeing. approx. 50 minutes € 59,00
This massage technique was already known in India and China 5000 years ago. Pressure points correspond to different body organs, and massaging them has a beneficial effect on your wellbeing. approx. 25 minutes € 38,00
The classic massage is performed with warm, highly effective essential oils and will leave you feeling relaxed. approx. 50 minutes € 65,00
The classic massage is performed with warm, highly effective essential oils and will leave you feeling relaxed. approx. 25 minutes € 42,00
This massage is an excellent relief for tension in the neck and shoulders. Especially for those who sit a lot in front of the computer or in the car. approx. 45 minutes € 52,00
Partial massage and foot reflexology approx. 50 minutes € 65,00
Loosens and warms up muscles before a sporting activity. Also promotes muscle growth. approx. 25 minutes € 40,00
Releases blockages and gives new the life energy. A tingling sense of wellbeing spreads through the entire body. A wonderfully relaxing treatment, especially for those suffering from stress. approx. 25 minutes € 33,00
A combination of cupping therapy and trigger point massage which has a deep effect on the muscles. approx. 50 minutes € 65,00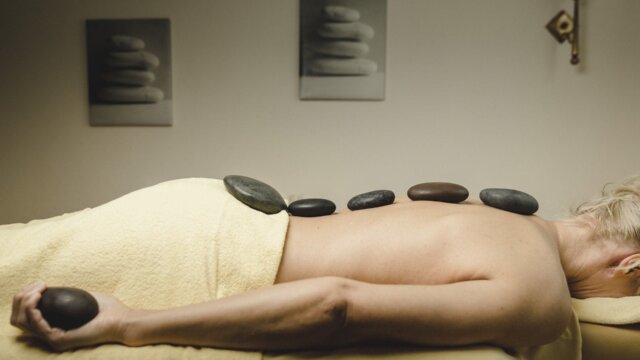 Special massages
Harmony and energy through warming and cooling stones. The whole organism is charged with new energy and vitality, our energy field is harmonized and strengthened. The combination of massage and traditional knowledge makes the treatment a valuable and unique method, which promotes healing on physical, mental and spiritual level. This helps us to bring more harmony and balance into our lives. Full body approx. 80 minutes € 109,00 Partial body approx. 25 minutes € 52,00
Blockages and tension are loosened so that the energy can flow freely. Through the use of various oils different effects can be achieved. Massage techniques, acupressure, oils and warm compresses make this massage special. approx. 50 minutes € 78,00
The Thai yoga massage treats the energy lines of the body. Organs are stimulated, tense muscles and blockages released. Special yoga stretching movements alleviate stiffness. This has a very relaxing effect on body, mind and soul. Please wear comfortable casual clothing. approx. 45 minutes € 66,00
Alpienne treatments
Cleanses gently, has a soothing effect and leaves the skin fresh and supple. approx. 20 minutes € 41,00
with Propolis-lotion, has a balancing effect and moisturizes
with marmot oil - relieves aching muscles and joints, enhances the immune system
with arnica lotion - enhances blood circulation, has a cooling effect and alleviates sprains and aching muscles
with St John's wort lotion - has a sooting effect, relieves fatigue and insomnia, alleviates sunburns and dry skin
Full body massage approx. 50 minutes € 65,00
Partial massage approx. 20 minutes € 41,00
with Propolis - "the heavenly nectar" -  with yarrow and mullein, has a moisturizing effect
with St John's wort cream - "calming for skin and nerves - soothing, very beneficial for sunburns and rough skin
with arnica cream - "the healing power" - has a refreshing, invigorating and healing effect
approx. 20 minutes € 48,00
with arnica tonic has a refreshing and invigorating effect approx. 20 minutes € 41,00
Honey peeling massage with mountain crystal salt
Honey-Swiss stone pine bath
approx. 55 minutes € 73,00
Herbal footbath
Relaxing full body massage with hot herbal pouches
Combined head and face massage with St John's wort-arnica or propolis lotion
approx. 80 minutes € 102,00
full body honey peeling massage
honey-Swiss Stone pine relaxation bath
herbal foot bath
relaxing full body massage with steam-heated herbal pouches
head and face massage
package price: € 165,-