Beauty & Face Treatments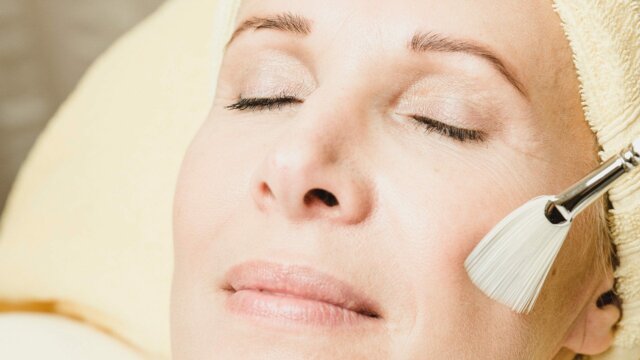 Facials
Your skin ties more moisture and the cell regeneration will be stimulated. It gains in elasticity, resilience and suppleness. Look younger and more vital!
Facial steam bath, removal of blemishes, eyebrow shaping, deep exfoliation, , collagen elixir to retain moisture, hyrdolage with nutrients for regenerating.
approx. 50 minutes € 95,00
approx. 80 minutes with facial massage or refreshing algae mask € 125,00
Cosmetic therapy to improve the tissue structure to strengthen and tighten your skin. A special collagen which is responsible for the elasticity of your skin is activated and stimulated to grow.
approx. 80 minutes € 125,00
Environmental pollution, stress, sun and nicotine leave visible traces on your skin. This treatment counteracts these negative influences. Pallid complexion, poor circulation and dry skin excellently responds to this treatment. Particularly effective after the !QMS Classic treatment.
approx. 80 minutes € 120,00
The 4-day plan to rejuvenate your skin visibly with
1 !QMS Classic treatment, 80 min
1 !QMS Alpha treatment
1 !QMS Tissudermie treatment
1 !QMS Oxygen Energy treatment
Package price € 430,00
New power for your skin! The magic formula is called QMS + oxygen - and the result is stunning. Wrinkles disappear almost completely. Probably the gentlest way to look years younger. With our "Oxygen Energy Applicator" QMS-collagen with highly concentrated oxygen is supplied into the skin layers. The result is visible already after the first and extremely pleasant treatment. For the continued success we recommend 3-5 applications. And your youthful radiance will return!
approx. 80 minutes
1 treatment € 135,00
3 treatments € 345,00
Exfoliation, deep cleansing, massage with active ingredients and care pack with maritime ingredients, individually tailored to your skin type.
approx. 50 minutes € 72,-
approx. 80 minutes € 95,-
A balancing, clarifying special treatment for impure, oily skin. Pure, micro-pulverized algae supply minerals, vitamins and trace elements to detoxify and purify the tissue in a natural way.
approx. 80 minutes € 110,00
A cooling sea breeze for stressed skin. Soothe your irritated skin with this cooling, invigorating anti-stress special treatment from an algae-plant mix with milk and clay. The soothing and decongestant effect leaves your skin fresh and feeling smooth.
approx. 80 minutes € 110,00
Distinct crinkles get padded and smoothed by the complex of maritime Hyaluron. The skin appears compacted and well-proportioned.
approx. 80 minutes € 115,00
An deeply relaxing and refreshing treatment of face, neck, décolleté and hands. The effect of high-quality skin care products with natural vitamins and minerals is intensively clarifying and stimulates the natural activity of the skin. For a clear, even and fresh complexion.
approx. 50 minutes € 79,00
approx. 70 minutes € 105,00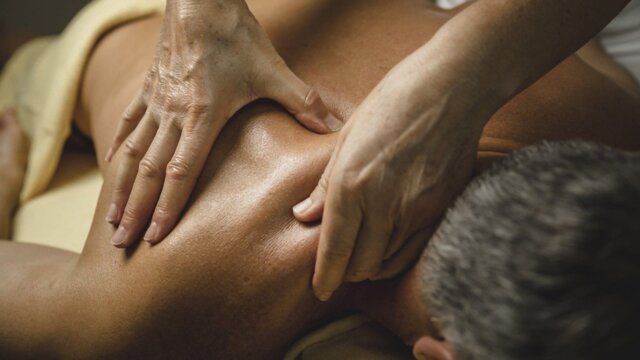 For men only
An anti-stress treatment with menthol, camphor, allantoin, chamomile, witch hazel and algae extracts. The application with white clay has a vasoconstrictor and cooling effect - like a refreshing sea breeze. Swellings are decongested, wrinkles softened and the skin tightened and you feel rejuvenated.
approx. 50 minutes € 72,00
Our 1-day package including:
1 Thalgo Men facial
1 pedicure with footbath
1 fango pack
1 partial body massage
Total price: € 165,00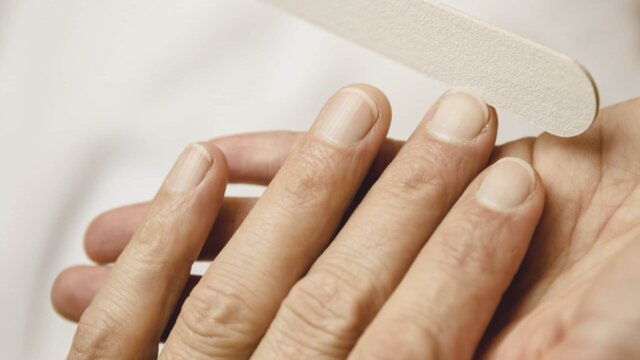 Beauty extras
Eyelashes colouring,  eyebrows colouring, eyebrows depilation € 28,--
Well-cared hands & feet
Our "love your feet" pedicure.
approx. 50 Minutes  € 42,--
approx. 50 Minutes  with nail varnish  € 47,--
approx. 75 Minutes  with striplac € 60,--
Relaxing massage which is energy harmonizing
Foot bath
Foot peeling
Foot massage
Foot mask
approx. 50 minutes € 47,00
approx. 80 minutes € 79,00
approx. 45 minutes € 35,00
Care and wellness for all nail types.
approx. 50 minutes  € 39,--
approx. 50 minutes with nail varnish  € 44,--
approx. 75 minutes with striplac € 57,--
shaping & nail varnish for hands or feet
approx. 25 minutes € 29,--
approx. 50 minutes with striplac  € 45,--
Paraffin hand treatment leaves your hands smooth and soft.
approx. 20 minutes € 25,00
Smooth skin
Depilation full legs € 45,00
Depilation lower legs € 32,00
Depilation upper lip or chin € 12,00
Depilation bikini € 20,00
Depilation armpits € 15,00
Depilation back € 35,00