Partner treatments & Feel-good packages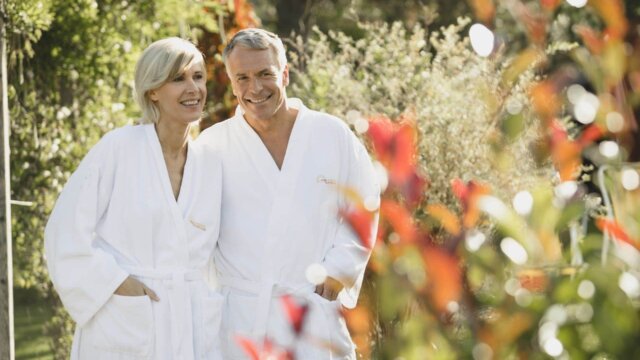 Partner treatments
Enjoy relaxing moments with the one you love in our special "Le Caribic" room.
Caribbean Dreams

The experience begins with a fragrant aroma bath with a touch of fresh exotic followed by a cleansing sea salt exfoliation which removes dead skin cells. Afterwards we will pamper you with a warm aromatic oil massage.

Selected fruits and a Tropic cocktail will be served. Enjoy your time together in the blossom steam bath. Ylag-Ylang, yasmin and Caribbean fragrances enchant – Hawaii is near.

The cosy waterbed gives you plenty of time for cuddling and resting.

Approx. 150 min. price for two € 180,00

Luxury Dreams by St. Barth

Enjoy this wonderful time together! Harmonious aroma bath in the blossom steam oasis, papaya and pineapple peeling with sea sand and with nourishing coconut oil, followed by an exclusive beauty bath "legend" of St. Barth and a relaxing body massage "harmony". Fresh fruits and an exotic cocktail in the waterbed invite you to linger and to daydream.

We will give you a small souvenir to take home – you will definitely have a long lasting memory of this wonderful ceremony.

approx. 180 min. price for two € 250,00

Westindian Feelings

Aroma bath, fresh fruit and Caribbean cocktail
approx. 60 min. price for two  € 58,00
bookable within our "Beauty- & Verwöhn" selection (= 2 treatments)

Aroma bath, blossom steam bath, fresh fruit and Caribbean cocktail
approx. 90 min. price for two € 72,00

 
Beauty packages
Advantage packages which can be booked in addition to your hotel stay.
Beauty wellness day
Enjoy a day at our spa with our selected wellness packages.
Beautiful wellness day

Sumptuous breakfast buffet
Use of our spa area with indoor and outdoor pool, several saunas, steam baths, infrared cabin and relaxation rooms
Fruit, juices, spring water and teas in the spa area
1 wellness treatment of choice (massage, cosmetics or bath)
1 token for the solarium
Cold and hot afternoon snacks
on request incl. dinner at a surcharge of € 23,00

Package price: € 95,00 – 

St. Barth – "body and face"

1 small facial including mask
1 Papaya-full body peeling
1 Relaxing bath St. Barth Dream
1 Feeling well massage with ivy gel and menthol oil

Package price: € 195,00

Feeling relaxed

1 Manicure with nail varnish
1 Pedicure with nail varnish
1 Beauty bath of choice

Package price: € 99,00